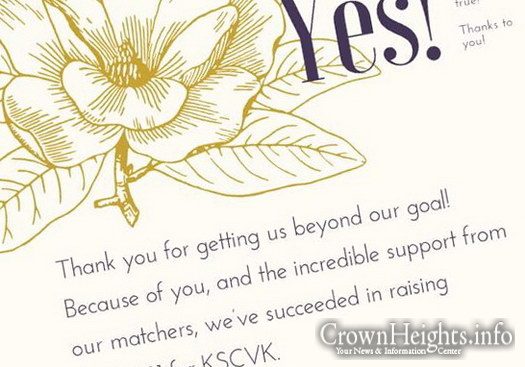 Devorah Benjamin, who runs Keren Simchas Choson V'Kallah, wrote a thank you to the community for coming through and surpassing her fundraising campaign goal.
She writes:
Thank You for getting us beyond our goal!
Because of you, and our incredible support from
our matchers, we've succeeded in raising
$335,491 for KSCVK.
Your support ensures we can continue to make
every day a simcha and even more dreams a
reality for couples facing financial challenges. You
said yes to invitations and the Hall. Yes to the
Kapota and the hat. Yes to the flowers and the pictures.
Yes to the caterer and the band. Yes to sharing
the joy essential to our lives. Thank you.
This amazing success would not have been
possible without you.
Thank you for saying yes!
Devorah Benjamin