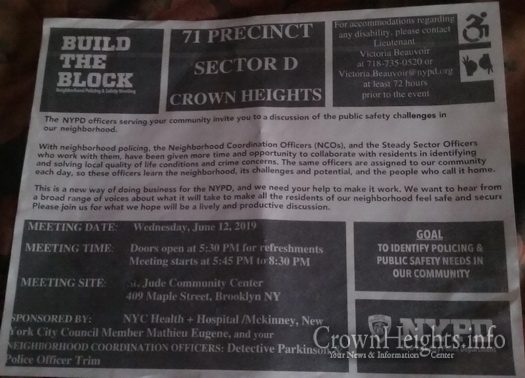 The 71st NYPD Precinct's Sector D, which covers the "lower" end of Crown Heights, will be having its Build The Block meeting on Wednesday. The meeting, hosted by the precincts NCO's, gives the community a chance to speak directly with the officers, and allows them to raise concerns.
by CrownHeights.info
This Wednesday, the 71st NYPD Precinct, which covers a majority of Crown Heights, will be hosting a Bui;d the Block meeting for residents in its Sector D.
Sector D in the 71st Precinct is the area from Nostrand Ave to Utica Ave, from Empire Blvd to Clarkson Ave. This covers what is called the "lower" part of Crown Heights.
This area has recently seen an explosion of Jewish residents, as many head to the those more affordable neighborhoods.
The meeting will take place at St. Jude Community Center located at 409 Maple St. Doors open at 5:30pm, with the meeting going from 5:45pm to 8:30pm.