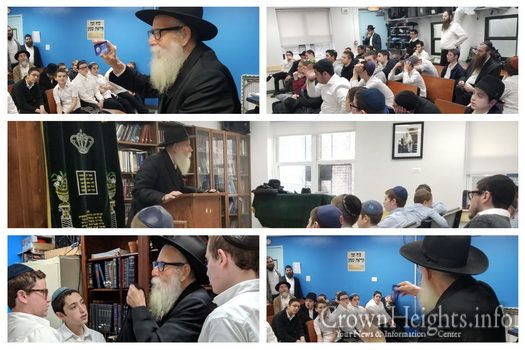 28 years later, the students at Darchai are doing all that they can.
It's been so long since Gimmel Tammuz. Does the next generation really feel a yearning for Moshiach? As Friday's events proved, the answer is a resounding yes.
On Chof Ches Nissan, the student body of Yeshiva Darchai Menachem gathered to mark 28 years since the Rebbe's call: to do everything one can to bring Moshiach.
The rally began with the 12 Pesukim, followed by heartfelt cries of "Ad Mosai!?" and the enthusiastic singing of We Want Moshiach Now.
Rabbi Shlomo Cunin, Head Shliach to the West Coast, helped talmidim get into the spirit of the day. He discussed the importance of the Rebbe's call to action, impressed upon each talmid how the Rebbe knows about and cares for them on a personal level, and ended by encouraging everyone to act on the Rebbe's call by doing all they can to bring Moshiach.
The rally ended with a clip of the Rebbe's Chof Ches Nissan sicha.
"The Rebbe's message on this day shook Chassidim to the core," said Rabbi Menachem Vail, principal. "We have the responsibility to empower the next generation to finish what the Rebbe entrusted us to do."
As a follow-up to the rally, students were introduced to a new "Moshiach campaign" mission. For the next few weeks, daily "Moshiach facts" will be handed out – in line with the Rebbe's instructions that learning about the Geulah can hasten it. The program will end shortly after Shavuos with a grand "Moshiach Auction."
May the good deeds of our the talmidim join those of other children around the world, giving a final blow to this bitter golus and bring about the ultimate Redemption, now!