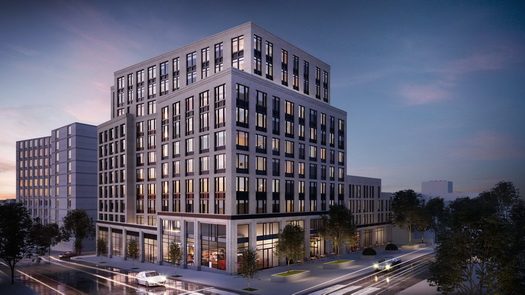 More than 50 apartments have hit the lottery in a  Crown Heights building this week. The building, located at 409 Eastern Parkway on the corner of at Bedford Avenue, is nearing completion, and its affordable housing units placed up for lottery.
by CrownHeights.info
The newly built building on Eastern Parkway and Bedford Ave is nearing its completion, and the obligatory 50 plus affordable units have been placed up for auction.
The building, which sprawls over more than 197,000 sq. ft. is 11 stories tall, and will host 186 apartments. Of those, 56 are listed as affordable.
The affordable units are reserved for applicants earning 80% of the area median income (AMI). There are five studio apartments, 23 one-bedroom apartments, and only seven two-bedroom units available.
Applicants need to make between $42,000 – $66,800 to qualify for studios. Single- to three-family households need to make between $45,018 – $75,120 to qualify for the one-bedroom and $55,863 – $90,160 for the two-bedroom.
Rent rates will be as follows: Studios are $1,168/month, One-bedrooms are $1,254/month and two-bedrooms are $1,511/month.
Rabbi Eli Cohen of the Crown Heights Jewish Community Council had previously told CrownHeights.info, that they had been in contact with elected officials to insure that Crown Heights Jewish Community members have an equal chance to acquire affordable housing in the building.
To sign up to enter the lottery, Click Here