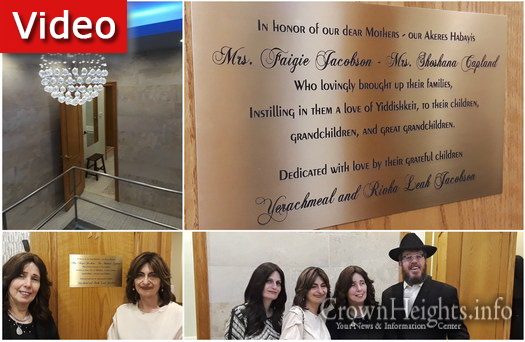 The Crown Heights Womans' Mikvah, called the Rebbes' mikvah on Union Street, held an inauguration of its newly renovated Mikvah and two beautiful preparation rooms. The renovation of the mikvah and rooms ends another phase in a project to renovate the entire mikvah, taking nearly ten years.
by CrownHeights.info
A long and complicated renovation process has finally completed another phase as the Womans' Mikvah of Crown heights completed the renovations of the original Mikvah and two preparation rooms. The magnitude of the project can not be underestimated, as the Mikvah remained open throughout the nearly 10 years of construction.
One of the beautiful spa like preparation rooms was sponsored by Yerachmiel and Rivka Leah Jacobson, in honor of their mothers Mrs. Faigie Jacobson and Mrs. Shoshana Capland.
The event culminated in the unveiling of a placard placed on the door of one of the preparation rooms. The message reads thanks to those  "Who lovingly brought up their families instilling in them love of Yiddishkeit, to their children, grandchildren and great grandchildren."
The mikvah renovated was the mikvah used by the Rebbe, and in this vein, kept the mikvah tiles from the original construction. Despite the use of the original mikvah, the rooms have been completely renovated and beautified.
The inauguration was held for a small crowd including the Jacobson family, Hackner family, some committee members, as well as some community representatives. Yanky Sufrin, the contractor for the project who went above and beyond to bring the mikvah to its completion also attended the event.
Mrs Rivkie Katz was invited to speak, in which she touched upon the importance of a mikvah and its central theme in Torah and continuation of the Jewish people.
Plans are presently underway to expand the mikvah, makeing new preparation rooms as well as renovations of the entry and exit. A a new air conditioning system is also in the works.
Donations can be sent by PayPal to crownheightsmikvah@gmail.com or mailed to 1506 union street Brooklyn NY 11213. For dedications contact Nechama Hackner at 718-773-1234 Or crownheightsmikvah@gmail.com.