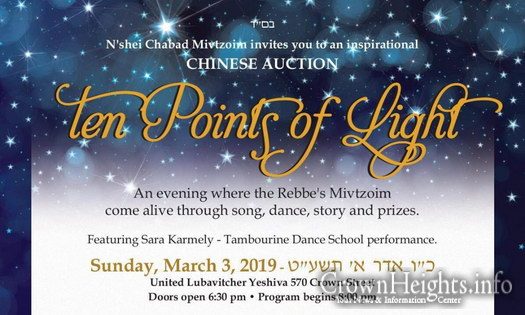 N'Shei Chabad Mivtzoim Committee will host their First ANNUAL Mivtzoim Auction- "TEN POINTS OF LIGHT. An evening where the Rebbe's Mivtzoim come alive through song, dance, story and prizes.
It's time to take the world by storm.
N'shei Chabad of Crown Heights Mivtzoim committee is at the forefront!
Have you got a free day on your calendar?  Does your life need some enhancement?
The Rebbe has gifted us with the 10 Mivtzoim. Partner with us as we bring the Rebbe's Mivtzoim to a new level.
The Mivtzoim "Ladies" can be found in supermarkets, boardwalks and senior centers on any given day.  Giving another yid a spiritual lift and your day will be uplifted.
The 10 points of light auction will feature Guest speaker Sara Karmely who will LIGHT our night with stories of guidance received from the Rebbe in the area of Mivtzoim.
The Tambourine Academy of Crown Heights directed by Leah Raskin will DeLIGHT us with song and dance representing the 10 Mivtzoim.
Join together in song with a Musical performance by Clara Landsman and singers.

Our Auction with a twist- where each prize brings the 10 Mitvtzoim alive.
Let's celebrate together and support the endeavor, to enhance and enlarge and bring forth the Geula through the Mivtzoim we do.
THIS Sunday!
26 Adar 1
March 3, 2016
United Lubavitcher Yeshiva – 570 Crown St.

Viewing 6:30 PM – Program 8:00 PM

Admission: $18.00-includes 1 free $18.00 auction ticket.
For phone order 917 291 2287 Day of auction until 9:00 PM
Purchase Auction ticketsOnline: https://www.MyMivtzoim.com