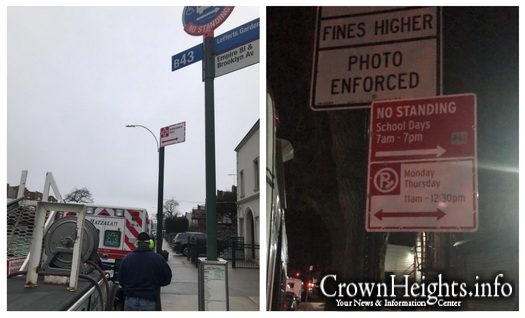 New "No Parking" signs were added in at least two locations in Crown Heights Thursday. One by Empire Shteible, and another on East New York behind the Beis Rivkah building.
by crownheights.info
The Department of Transportation visited Crown Heights Thursday, and updated some of the parking signs in the community. Two important changes were made to make the community safer.
An additional "Ambulance Only" sign was added on Empire Blvd immediately behind where Crown Heights Hatzalah parks two of its ambulances. This will ensure that the ambulances are able to get in and out of their spots, As well as give a place for Hatzalah volunteers to park their cars while picking up an ambulance.
Another sign added, was on East New York Ave between Brooklyn and New York Ave. The "No Standing" sign, located directly behind the Bais Rivkah building, will allow for safer bus pick up and drop off for the Bais Rivkah students. The sign is in effect from 7am through 7pm on school days.