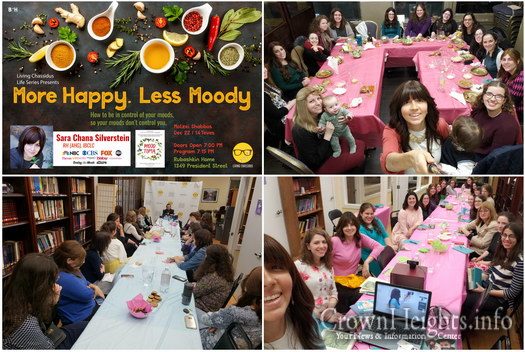 by Sara Liba Schrager
When Michal Weiss first started local women's group Living Chassidus, the emphasis was decidedly on the "chassidus" part of the group's name. At a birthday farbrengen, she was challenged to show how chassidus could be practical rather than simply abstract. The resultant group's name came from Weiss's mission to rise to that challenge by demonstrating how practical chassidus can be.
In the 6 years since, Living Chassidus's mission has expanded to include addressing not just the spiritual needs of its members, but also their material and social needs – bringing equal emphasis to both "living" and "chassidus," as well as the convergence of the two. In that vein, the group is hosting a series of upcoming Motzei Shabbos sessions with a focus on life skills.
The first event in the series will be this Motzei Shabbos, December 22, and will feature Sara Chana Silverstein, author of the newly released book MOODTOPIA: Tame Your Moods, De-Stress, and Find Balance Using Herbal Remedies, Aromatherapy, and More. Sara Chana will speak about women's health and how to handle fluctuations in moods and the common winter gloom.
The following week, December 29, Rivka Tauber will lead a hands-on workshop on creating the perfectly balanced salad with the ingredients at hand, as well as general meal prep tips.
The third topic, on January 5, will be preparing for financial success and managing a budget. The speaker will be Mrs. Chaya Margolin, a financial coach who has been helping families get out of debt and build wealth for the past 5 years. Following this highly practical session, Rabbi Moshe Rubashkin will share some words of inspiration and chassidus about using ashirus for the sake of Hashem.
Additional sessions in the series will be announced soon!
Sessions will take place at the Rubashkin home, 1349 President Street. Doors open at 7:00; program starts at 7:15. There is no charge to attend.
To find out more about Living Chassidus or to make a donation in support of the group's programs, please go to http://www.livingchassidus.org.