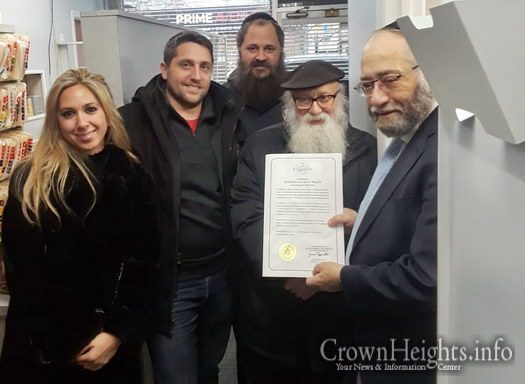 Dr Allan Plaut, a loved pediatrician in the Crown Heights community received a citation from Senator Jesse Hamilton honoring his exemplary service to the community.
by crownheights.info
After years of caring and attention to the families of the Crown Heights Community, Mr. and Mrs. Nathan Rieber felt that local physician, Dr. Allan Plaut deserved an award.
Dr. Plaut received his degree in Medicine from SUNY Downstate Medical Center College of Medicine, and has been a practicing physician in the community for over 20 years.
Available day and night, rain or shine, Dr. Plaut has been there for the community, and now, the community felt they should show their appreciation.
Mr. and Mrs. Rieber contacted Reuven Lipkind who works in the office of NYS Senator Jesse Hamilton asking him for options of how to honor Dr. Plaut.
Arrangements were made to honor Dr. Plaut with a Senators Citation of Honor, which was awarded on Thursday December 20th, at his office on Kingston Ave.
At the ceremony, Reven Lipkind presented the award and words were said by Mrs. Rieber outlining the appreciation of the community.
A flower arrangement sponsored by Mimulo was presented to Sarah Greenspan, who manages Dr. Plauts medical office, and a special thank you given to the receptionist Grace Kastner.