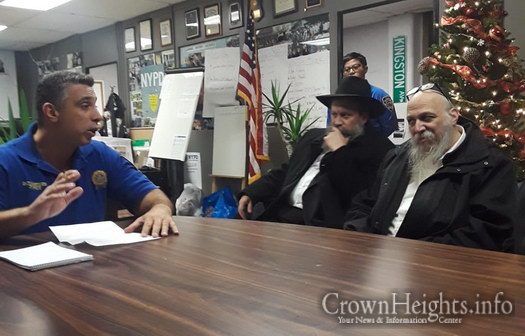 A meeting between Shul representatives and the NYPD's 71st precinct Community Affairs saw a very low turnout – only five of over sixty Shuls were represented – after the CHJCC failed to inform the community of the event.
by CrownHeights.info
The NYPD's 71st Precinct Community Affairs team arranged a meeting with representatives of local Shuls in Crown Heights following the recent uptick in hate and bias related crimes, as well as high profile shootings throughout the world.
The meeting, although very important, saw extremely low turnout.
The meeting was run by Detective Vinny Martinos, Community Affairs liaison, who attempted to contact the community through the CHJCC. Out of the 60+ Shuls and Shteibles throughout the community, just five were represented.
Trying to figure why so few Shuls sent representatives to the meeting, crownheights.info found that although the community affairs team approached Eli Cohen, the executive director of the Crown Heights Jewish Community Council, to publicize the meeting last Thursday, the community was not informed until Tuesday, late morning, of the event which was to take place just a few hours later. As well, only a select few were given the message, leaving the vast majority of the community in the dark.
During the meeting, the community affairs team explained that of the 8 recent high profile crimes in the area, there is no easily recognizable pattern. As such, they are attempting to deter the criminals by placing extra NYPD vehicles throughout the community.
Yisroel Shemtov, a community activist who represented one of the few Shuls informed, asked what the outcome of any arrests made following the recent crime wave. The answer, even with camera footage and victims pressing charges, virtually all of the suspects are back out on the street.
Although no credible threats are present at this time of a mass shooting, the community affairs team brought up some measures available to the community for the eventuality. Obvious security cameras were brought up as a deterrent, as well as armed guards at the doors.
Another worry posed, was that in the event of a shabbos emergency, there should be a way to contact 911 and Hatzolah. the solution proposed was that there should one person designated to carry a cell phone on Shabbos, if no Hatzolah or Shomrim Volunteers are in the Shul.
Other participants of the meeting raised concerns that the NYPD is not in touch with the residence of Crown Heights, pointing out that almost all interactions between the NYPD and the community occur through politicians, and the needs of the community have not been met.
The community affairs team has offered to host meetings in Shuls throughout the community to address specific community concerns and needs and independent of any activists or politicians.