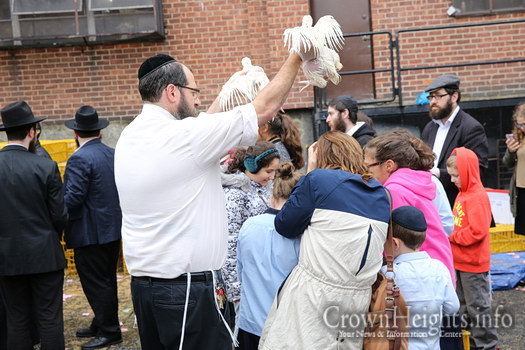 Two well-known philanthropists have once again stepped up to the plate to make sure that residents of Crown Heights can observe the ancient tradition of kapparos. The subsidized chickens will only be available on Sunday starting at 12:00pm until 7:00pm – or while supplies last.
Mr. Morris Gad, of Diamond International, is a steadfast supporter of the Crown Heights kapparos operated by the NCFJE for over 10 years, ensuring that the price of chickens is deeply discounted for residents.
In recent years, he is joined by real estate developer Rabbi Dovid Fisher. Their combined donations have ensured that kapparos is affordable to locals, many of whom find it challenging to afford the many costs of associated with the holidays.
Kapparos chickens will be available for Crown Heights residents at Beis Rivka (corner of Montgomery & Nostrand) on Sunday, September 16 from noon – 7 pm.
"Morris Gad and Rabbi Fischer are very good friends of the Crown Heights community and our organization," said Rabbi Shea Hecht, Chairman of NCFJE, which oversees kapparos. "I'm very thankful and proud of their friendship to the community. Many larger families would have a much harder time keeping up the kapparos tradition if not for their generosity. "
"Once again, we'd like to remind everyone to be mindful of the halachos of tzar baalei chaim. There are many outsiders who will be looking for any reason to protest kapparos. As always, we ask that everyone avoid engaging them entirely."
Rabbi Yaakov Yehuda "JJ" Hecht OBM, began reviving widespread observance of kapparos in the early 1970s. The Rebbe encouraged his efforts and would ask for details of the operation, including the number of birds sold, the expenses, shechita and who took part.