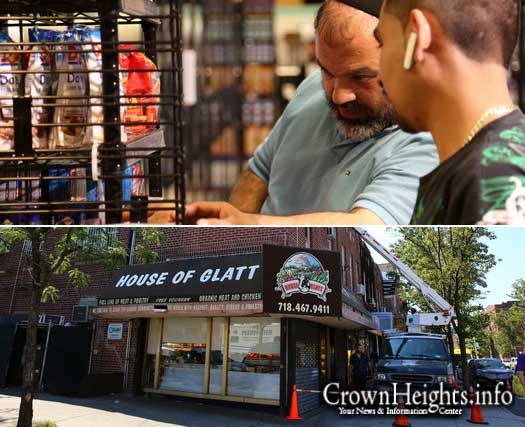 Benabou Purchases House of Glatt
Crown Heights supermarket mogul Itzik Benabou recently completed the purchase of the Kingston Avenue delicatessen and butcher shop, House of Glatt as well as the property. This move consolidates his hold on the beef and poultry supply in the neighborhood, and his taking ownership of the sixth property on one block of the shopping thoroughfare.
by CrownHeights.info
After serving the community for decades, Last week House of Glatt was acquired by Itzik Benabou. The supermarket mogul, and owner of multiple properties on the single block of Crown Heights's shopping thoroughfare.
Owned by Arkeh Tzivin, House of Glatt, located on the corner of Kingston Avenue and Crown Street, is a staple butcher shop and delicatessen from which neighborhood residents purchase their meat and poultry for decades.
Banabou was purportedly in talks to purchase the business and building for months and sources told CrownHeights.info that the deal was closed on Wednesday last week. The source also noted that Benabou "grossly overpaid."
With the recent acquisition, Benabou now owns six properties on Kingston Avenue between Montgomery and Crown Streets.
His first purchase was in 2002 where he bought the former Singers Grocery from the Farkash family for $114,000 for each of the two lots. Then in 2013, he purchased both lots from a referee where the Auction Ware store was for $800,000.
Over the course of a number of years, Benabou purchased three buildings on Troy Avenue which housed the Shloime's grocery store, which would close a short while later.
Then, earlier this year, he purchased the Cell-a-Bration building for $995,000 before buying the House of Glatt business for what sources said was "well above market value."
Through his Empire Kosher and Marketplace supermarkets and the recent closure of the Crown Kosher butcher shop, Benabou now controls the majority of the kosher/Lubavitch meat and poultry supply in the neighborhood.