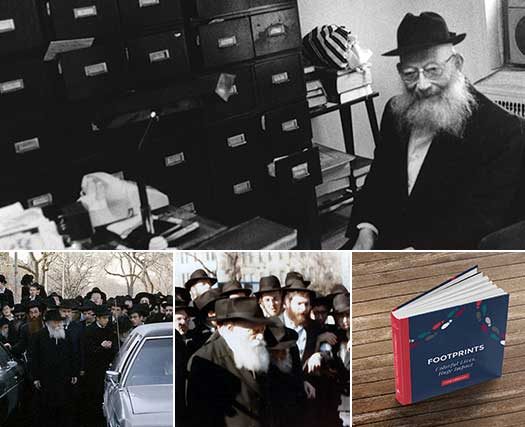 In honor of the Yahrtzeit of Dr. Abraham Seligson we present you, courtesy of Hasidic Archives an excerpt from a chapter in their new book Footprints, detailing some of the history and stories of Dr. Seligson.
by Dovid Zaklikowski
As WWII broke out, and the German Army began invading European cities, many Jews were forced to flee from their homes. After a long journey, thousands of refugees arrived in Shanghai, China, where they remained until the bitter war ceased. In this strange and foreign land, they had to contend with a foreign language, a new way of life and unfamiliar diseases.
Dr. Abraham Seligson had fled to Shanghai, too. Avraham Abba Seligson was born in 1907 in Cracow, Poland, to Michoel Aaron and Chaya Rochel. His maternal uncles were doctors, and he took an interest in medicine at an early age. Initially, when he tried to register for university in Vilnius, he was rejected because he was Jewish. In 1926, he began studying at a university in Strasbourg, France, and then in Paris. Eventually, he was accepted to the university in Vilnius.
The young medical student also studied medical conditions unique to China. In 1933, upon completion of his medical study, he continued his post-doctorate studies in his hometown of Cracow. He also practiced internal medicine at the Surgical Clinic and Clinic of Internal Diseases at the University of Cracow, and penned numerous papers on blood pressure and Cushing's Syndrome.
Whenever Dr. Seligson would leave town, he carried a bag of medical supplies in case he would meet an emergency on the way.
At the onset of Germany's attacks on Poland during WWII, Dr. Seligson made his way to Warsaw, and from there to Lithuania, then Russia, and onward to Japan, until finding relative safety in Shanghai, China. It was on the boat ride from Japan to Shanghai that he first became the "doctor of the immigrants," treating sea sickness and attending to each person.
In Shanghai, he provided care to over a thousand patients without compensation. At times, he was too poor to purchase new shoes, and wore torn ones until he collected enough money.
He would not rest until he knew that everyone who needed him received proper care, often remaining awake through the night to care for a patient. He spent hours daily delivering medicine and vitamins to people's homes.
During mid-day in Shanghai, few would venture out of their homes due to the unbearable heat, yet Dr. Seligson was often seen heading to patients. Often, he would go without payment for his time and services, and lived off the same rations that all the refugees received from various Jewish organizations.
At last, his studies on medical issues of the Far East came to use. Many of his patients contracted dysentery or Beriberi disease. He instructed the refugees in manners of treatment and prevention, and they recovered.
In Shanghai, he also found time to study Jewish law, and eventually received rabbinical ordination by Rabbi Meir Ashkenazi, the legendary leader of the Jewish community in Shanghai, who spearheaded the many efforts to assist refugees of WWII in Shanghai.
Rebuilding Life
In 1947, he arrived in the United States, received a new medical license, and began applying for research grants. Arthur M. Fishberg, Director of Medicine at Beth Israel Hospital in New York wrote, "Dr. Seligson desires to work on the relation of the adrenal cortex to hypertension, with special reference to the possible role of ascorbic acid in adrenal-cortical activity…. [He] is an experienced worker in this field, having published original investigations in Europe."
In 1951, Dr. Seligson married Rochel Pinsker.
For many years, Dr. Seligson dreamed of organizing a convention of scientists and doctors to discuss Jewish medical ethics. His dream was realized in 1955. In a letter to the conference attendees, the Rebbe, Rabbi Menachem Mendel Schneerson, stated, "The health of the body is also dependant on the health of the soul. The healthier the soul, the more control one has over his or her physical wellbeing and the possibility to repair it."
"If one thinks that there is a contradiction between religion and science," wrote the Israeli newspaper Hatzofeh in April, 1956, "when you meet the Association for Orthodox Jewish Scientists that is proven incorrect."
In the United States, Dr. Seligson began his day two hours before prayers. After prayers, he would remain in the synagogue for any quick medical questions. He'd then visit patients in their homes in the Crown Heights neighborhood of Brooklyn, New York. After returning home, he would receive additional patients, though he was frequently called for emergency home visits. If patients were waiting, he'd forego lunch or intermissions until they were all seen.
Dr. Seligson would spend many hours researching treatments that would result in total healing for his patients. He was known for giving every patient as much time as they needed. If any of his patients were hospitalized, he followed the case closely with the doctor's on-call, and would speak with his patient to discuss how they were feeling.
After the last of his patients left his clinic, he would spend the remainder of the day studying Talmud, Jewish law and Chassidic teachings. When Dr. Seligson's children opened his books after his passing, they found numerous notes and analyses reflecting his broad knowledge of Jewish thought.
He served as one of the personal physicians of the last two Chabad leaders, the Rebbe Rayatz and the Rebbe. The Rebbe frequently referred people to Dr. Seligson.
Two months before Dr. Seligson's passing, as he lay ill in bed, a patient came to his home requesting a specific medication plan. Dr. Seligson eagerly leaped from bed in order to write the prescriptions.
For many years, Dr. Seligson told the following story to demonstrate the importance of preserving one's health:
Rabbi Yisroel Friedman (1796-1850), known as the "Holy one from Ruzhyn," was parting from a community when he said, "Be healthy, and be strong!"
Someone walked over to him and asked, "Doesn't it say that when you bid farewell, you are supposed to say some words of Torah?"
"In the first paragraph of the Code of Jewish Law," the rabbi replied, "it says you should be strong like a lion to do the will of G-d. This means we should be healthy and strong. That is the lesson of Jewish law I told the assembled before my departure."
It is purported that the Rebbe said of Dr. Seligson (paraphrased): "Judaism teaches us that a physician is given license to cure. A Jew who has committed his natural soul to medicine and his G-dly soul to Jewish law… what could be better than going to such a doctor?!"
Dr. Seligson passed away in January (25th of Shevat), 1989.
Footprints: Colorful Lives, Huge Impact is available from Amazon Prime or SeforimDeals.com