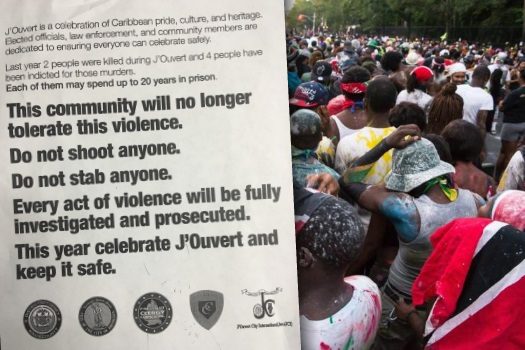 From DNAinfo by Kate Pastor:
Heightened security at this year's J'Ouvert celebration led to zero violent incidents tied to the pre-carnival event, despite a double shooting early Monday just blocks from the West Indian Day Parade route.
Arrests linked to J'Ouvert — the formerly violence-prone pre-dawn event that acts as a precursor to the West Indian Day Parade —  dropped to seven this year from 12 in 2016, including one gun arrest compared to seven last year, the NYPD said.
Arrests along the West Indian Day Parade route also fell, from 18 last year to four this year, police said. One man was shot and another stabbed along the parade route Monday, though both were expected to survive.
Earlier in the morning, around 5 a.m., two men were shot in front of 1692 Union St. in Crown Heights as locals in the neighborhood were setting up for a barbecue, police and sources said.