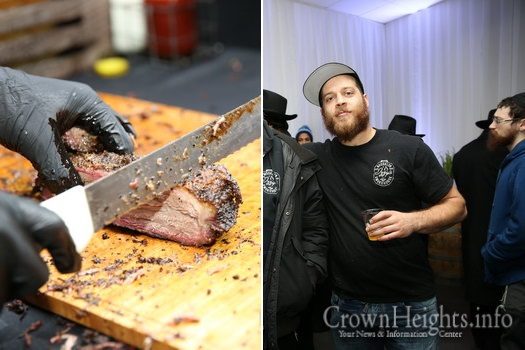 Crown Heights' very own Sruly Eidelman, purveyor of delicious kosher barbecue from his Troy Avenue establishment Izzy's Brooklyn Smokehouse, has claimed the top prize in the annual Brisket King NYC competition.
from the Forward:
It was a post-Passover triumph: Sruly Eidelman of the Crown Heights kosher barbecue establishment Izzy's Brooklyn Smokehouse took home both the crown and the golden calf trophy.
Eidelman placed second last year, while Ari White from the Wandering Que took home the title in the 2016 competition, making this the second year in a row that a Jewish pitmaster won the top prize.
Eidelman went up against some of the best barbecue pitmasters in New York City, including decorated competition pitmaster Robbie Richter. Eidelman and his team of "knuckleheads" (according to the announcer at the event) served the judges three different portions of brisket: lean, fatty and pastrami. After tasting Eidelman's smoked brisket, the judges unanimously crowned him the Brisket King of NYC.