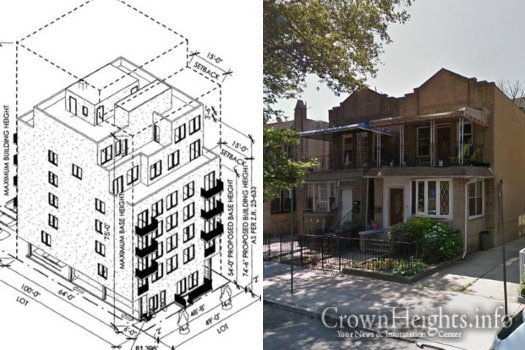 A pair of two-family homes are set to be replaced by a new seven-story residential building on Sullivan Place and Nostrand Ave. in Crown Heights, building records show.
From DNAinfo by Rachel Holiday Smith:
Developers bought the pair of homes at 262 and 264 Sullivan Pl. between Rogers and Nostrand avenues in 2014, deeds show, and will now build a 25-unit apartment building on the lot, according to permits approved by the city this summer.
The new building is designed at the maximum height allowed on the two lots by the block's R7-1 zoning.
A preliminary rendering of the building filed by the developers in construction permits shows a facade with terraces on the top two floors and small balconies on units facing Sullivan Place. The project will include eight enclosed parking spaces, the documents show.
The homes on the lot were demolished last month to make way for construction, according to residents keeping tabs on the property at Brooklynian.com, a local message board.
It's unclear if the new building will be rentals or condominiums. A representative of the company behind the project, "264 Sullivan Pl Group LLC," could not answer questions about the building and the owner, Mendel Gold, could not immediately be reached for comment.