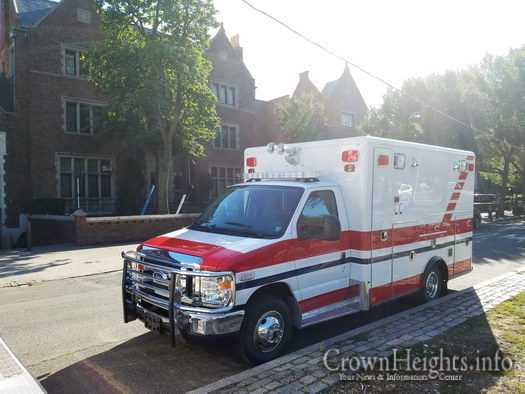 The oldest ambulance in Crown Heights Hatzalah's fleet is about to be replaced. Delivery of the new ambulance was made yesterday and it was parked briefly in front of 770.
"CH-3" as it is known, was pressed into service in April of 2008, and was the first to carry Hatzalah's new 'look,' replacing the traditional blue-over-blue for the red-and-blue color scheme which is very similar to the design carried by Hatzalah of Kirias Joel.
"We placed the order for the [ambulance] quite some time ago and finally it was delivered," said a Hatzalah coordinator. The ambulance was parked in front of 770 for a few hours while waiting to be picked up and taken to a sign shop, where it will be lettered and stickered.
The outgoing ambulance is currently the oldest in Hatzalah's fleet of four ambulances.
"The average life expectancy of an ambulance in our service is five years, and this one is over eight," he said. "The life of an ambulance isn't easy; when there is an emergency they get started and quickly rush off to call – repeatedly – and over time it causes breakdowns. At some point [ambulances] start spending too much time by the mechanic and it becomes time to replace them."
A new ambulance costs approximately $185,000 when purchased from the dealer; this cost does not include the emergency warning equipment, decals and other lifesaving machines. The outgoing ambulances will be sold in order to help offset the cost of the new ones.
You can help support Hatzalah by donating through their website at Hatzalah.ch.