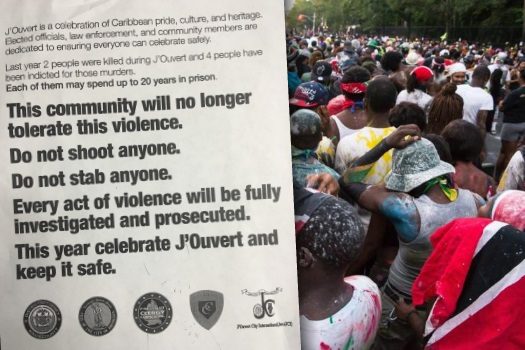 Flyers have gone up around Crown Heights urging participants in the annual 'J'Ouvert' festivities in the hours leading up to the Labor Day Parade not to shoot or stab anyone.
From CBS New York:
A new flyer warning residents in Brooklyn to celebrate the J'Ouvert festival safely is causing some controversy with residents.
J'Ouvert is a celebration of Caribbean pride, culture and heritage leading up to the West Indian Day Parade in Brooklyn, but the event has become linked with violence.
Last year, two people were killed. A 21-year-old man was stabbed at Grand Army Plaza and 43-year-old aide to Gov. Andrew Cuomo, Carey Gabay, died after police said he was caught in the crossfire between rival gangs on Bedford Avenue.
Click here to continue reading at CBS New York.