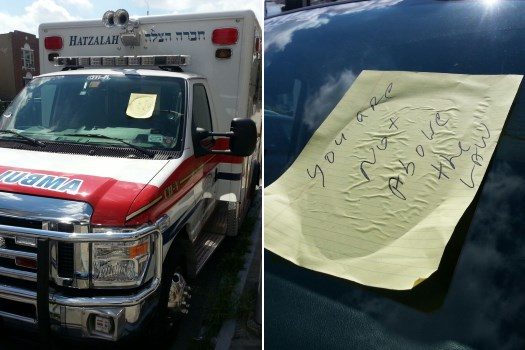 Hatzalah Windshield Vandalized with Angry Message
An irresponsible and unthinking individual put others' lives in unnecessary danger by gluing a piece of paper to the windshield of a Hatzalah volunteer ambulance. The note read: "You are not above the law."
The incident occurred on Friday to the ambulance parked in front of Empire Shteibel – which is strategically parked there to service the southwestern portion of the neighborhood in case of an emergency in which every second matters.
A passerby noticed the hostile message and immediately notified Hatzalah. "I was concerned that if they only noticed the paper when already on an emergency call, the time they spend trying to remove it – or the blocked vision of the driver if it were not removed – could potentially cost a life," the man told CrownHeights.info.
It is not known to us if the incident was brought to the attention of the police, or if Hatzalah will pursue charges of reckless endangerment if the perpetrator were found.