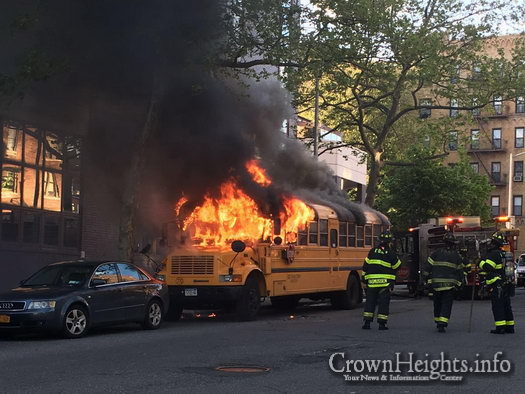 One day after four more juveniles were arrested for setting fire to a school bus parked in front of a Crown Heights Jewish girls' school, the NYPD has dropped hate crime charges against all of the young arsonists.
A total of five children and teens were arrested in connection with the incident, which occurred in front of Bais Rivkah on Lefferts Avenue.
From VIN News by Sandy Eller:
The Wall Street Journal reported that the decision to drop the hate crime charges was made after a meeting between police and lawyers for the five boys, who range in age between 11 and 14 years old.
Police had originally classified the incident as a bias crime because at least one of the boys said that he knew the bus was affiliated a Jewish school when the fire was ignited and because it was the second time that Crown Heights' Jewish community had been targeted in less than one week. In the previous incident, a side view mirror of a school bus parked near a yeshiva was broken by a brick, although police said there was no evidence to prove that the two crimes were related.
Each of the boys still face arson and criminal mischief charges and have been released to the custody of their parents.  All five will be tried in Brooklyn Family Court.