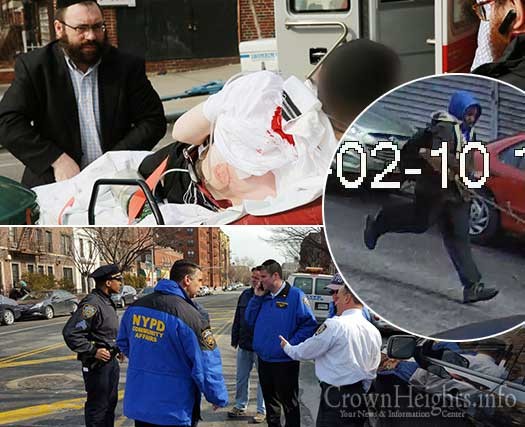 The man who was brought in for questioning in relation to the stabbing of 26-year-old Leiby Brikman in Crown Heights earlier this month was not responsible for the attack, the NYPD said.
From JP Updates by Mark Hirshberg:
The man wanted in connection with the stabbing of Yehuda Leib Brikman in Crown Heights more than two weeks ago is still being sought and investigators from the Hate Crimes Task Force Unit are still actively searching for him and are following up on every lead, NYPD officials with direct knowledge of the investigation  told JP.
Officials dismissed reports that the suspect has been arrested and detectives are in talks with the Kings County district attorney's office as to what charges to bring to the man. A man was taken into the 71st Precinct for questioning on Thursday morning after investigators received a lead that he may be the suspect. But after being grilled by detectives it turned out he was a mental health patient living in a home for mentally ill people on February 10 at the time of the stabbing, the officials said.
Police officials from the 71st Precinct thought they had resolved the case when the hate crime detectives brought in the person for questioning and started telling community leaders that they made an arrest, but it turned out to be a false alarm. They should have waited on the announcement until when hate crime detectives charged him, one of the officials said.
"The public should know that we are still looking for this guy and we need the public's help in finding the suspect who stabbed Mr. Brikman," a second official said.
The highest-ranking NYPD officials like department chief James O'Neill, detectives chief Robert Boyce, and commanding officer of the Hate Crimes Task Force Unit Mark Magrone are closely following this case and are making sure detectives do everything they can to catch the suspect. Magrone himself is following this case step by step to make sure the suspect will be caught, one of the officials added.
"The community should not live in fear. I can assure that everything possible is being done to catch him," a third official said.
Anyone with information in regards to this incident is asked to call the NYPD's Crime Stoppers Hotline at 800-577-TIPS.