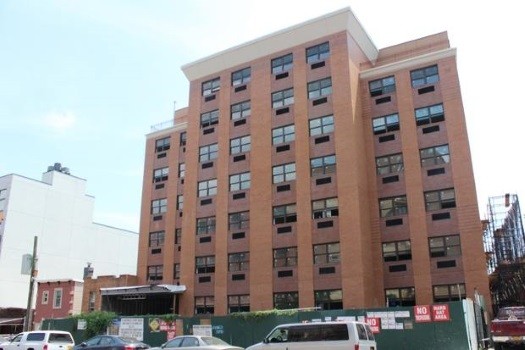 Photo: DNAinfo/Rachel Holliday Smith.
A new 46-unit 'affordable housing' apartment building was recently completed on Lefferts Ave. between New York and Nostrand Aves., and the NYC Department of Housing Preservation and Development is accepting applications to enter a lottery for the units. The cost? $1,909 per month for a studio, $2,047 for a one-bedroom and $2,465 for a two-bedroom.
From DNAinfo by Rachel Holliday Smith:
Dozens of studios that rent for $1900 a month and one-bedrooms that rent for $2,000 are about to up for grabs at 382 Lefferts Ave., according to officials.
The city's Department of Housing Preservation and Development is now taking applications to fill 46 newly constructed apartments in a former condo building in the neighborhood, according to a notice sent out Tuesday by the city's Housing Preservation and Development.
The affordable units at 382 Lefferts Ave. between Nostrand and New York avenues are available to tenants making between $67,406 and $138,080, depending on the size of the family, according to an advertisement of the units from NYC Housing Connect, the system used by the city to conduct lotteries to fill affordable housing spots.
Monthly rent for a studio in the building is $1,909. A one-bedroom will cost $2,047 per month and a two-bedroom costs $2,465 per month, the listing said.
The Lefferts Avenue building on the border of Prospect-Lefferts Gardens and Crown Heights has five studios, 28 one-bedrooms and 13 two-bedroom units with a fitness center and "party rooms," according to the posting. Half of the available units will be given to residents of Brooklyn Community Board 9, where the building is located. Five percent of the units will be set aside for municipal employees, as well.