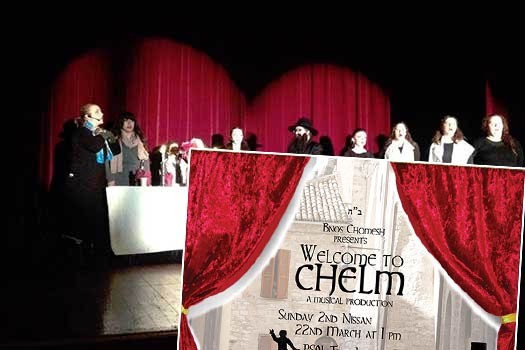 Students in Bnos Chomesh are hard at work practicing for their upcoming production, titled "Welcome to Chelm: A Musical Production" which tells some of the stories of the famous city in Poland.
The girls of Bnos Chomesh will help you bring your Simchas Adar right into the month of Nissan! On Sunday, Bais Nissan/March 22nd, Bnos Chomesh Academy will present:
"Welcome to Chelm: A Musical Production"
The show promises to provide lots of laughs, memorable songs and innovative dances. It will be an outstanding show, as audiences of Bnos Chomesh productions have come to expect.
The show will take place at 1:00 this Sunday at PS 91 on the corner of Albany and East New York Avenue. So take a break from your Pesach cleaning and join the talented students of Bnos Chomesh for "Welcome to Chelm"!