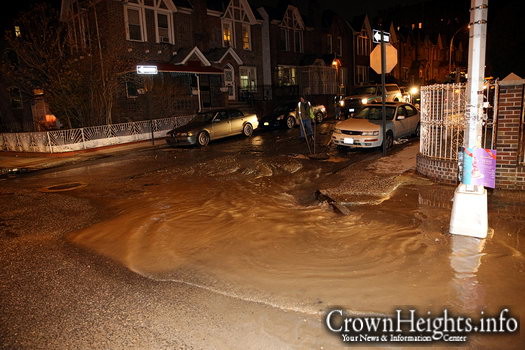 Dozens of resident on Balfour Place have been left without water, and some without heat as well, after the water main busted and a 'river of water' gushed down the street.
The water main broke somewhere in the middle of Balfour Place at around 6:30pm and the water began pouring out from under the street. Resident immediately noticed low water pressure and that the water was dirty. Many homes that rely on water based heating are left without heating as well.
The city's environmental protection agency, which takes care of the water infrastructure, arrived on scene within thirty minutes of the break and shut off the water to the block and set out to repair the broken pipes.
"If we are lucky we can have it fixed overnight, but sometimes it can take as long as a day or two to fully repair the main" said a one of the DEP workers at the scene.
Nearby residents may have notice that their water was brown as well, this is due to the movement on the water main valves and should clear up. Residents on Balfour Place are encouraged to shut off their home's water main so that dirt and other sediment should not come into their homes until the pipes are repaired.