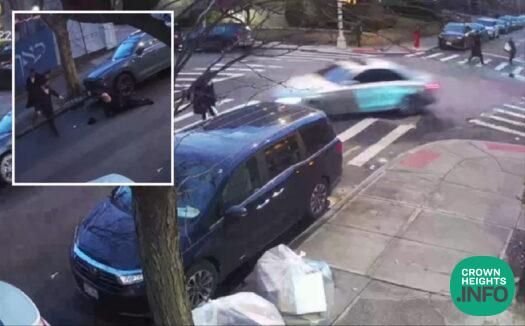 Friday Hit and Run In Crown Heights Being Investigated As Bias Crime
by CrownHeights.info
A shocking hit and run in Crown Heights this past Friday is under investigation by the NYPD as a biased crime.
The incident took place at the corner of Albany Ave and Union Street around 6:00pm this past Friday.
Video from the incident showed as a four door sedan drove up to the corner and stopped at the red light, only to suddenly take the turn from Albany onto Union, striking a Jewish man as he stepped into the crosswalk.
The driver of the sedan barely slowed before taking off quickly down Union Street.
Hatzalah was called and transported the injured man to the hospital.
The NYPD is taking the incident very seriously, and is investigating it as a possibly biased crime.
Update: The Crown Heights resident that was injured in the incident has been identified as a male in his 50's, who received multiple injuries. The worse of his injuries is reported to be multiple breaks in is leg.