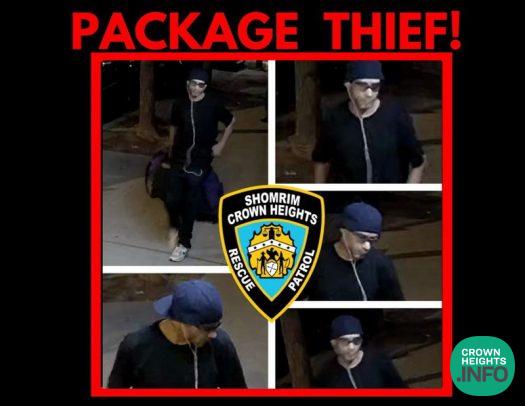 After Busting Two Notorious Package Thieves, Crown Heights Shomrim Moves To Catch Another
by CrownHeights.info
Have you seen him?
Crown Heights Shomrim has taken aim at another Crown Heights package thief infuriating the neighborhood just weeks after successfully tracking down and busting two others.
"This summer we have apprehended and facilitated the arrests of multiple package thieves decimating our community," Crown Heights Shomrim wrote in a message to the community. "We have seen a large reduction in package thievery. Apparently, this is the next major package thief on our streets. See him? Call Shomrim."
The new thief, apparently a "new face in town", is alleged to have targeted multiple homes throughout Crown Heights, stealing packages and suitcases left unattended.
Described as a light-skinned male, the thief can be seen on surveillance video given to Crown Heights Shomrim wearing a backward baseball cap and sunglasses with wired headphones in his ears.
The high-quality footage was given to Shomrim by Elyon Systems, a local business that provides low voltage and security systems.
The two previous thieves that were busted red handed by Shomrim were caught after extensive work by the Shomrim volunteers, using tips from local residents to track down and trail him.
Following his arrest, exhaustive work by Shomrim made sure that this particular thief would no longer bother the community. This was done by ensuring that each and every theft was reported to the police, and a list of "open" police reports were tacked up into an impressive rap sheet.
If you have been a victim of this new thief, make sure to file a police report with the local precinct and notify Crown Heights Shomrim of the theft at 718-774-3333.