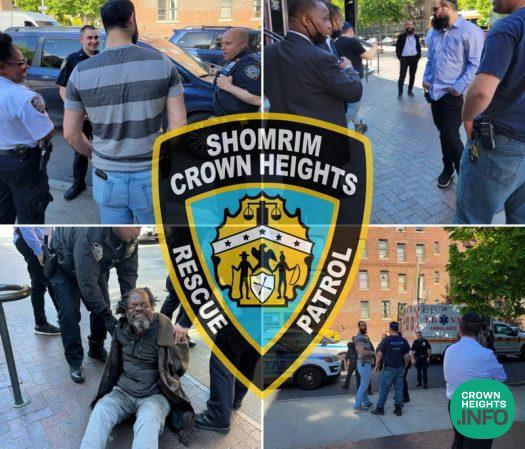 Crisis Averted After Beis Rivkah Security Guard Subdues Erratic Man Outside School
by CrownHeights.info
An alert security guard at Beis Rivkah Lefferts averted a crisis Thursday afternoon when he subdued an erratic and dangerous man outside the school building during dismissal.
Crown Heights Shomrim volunteers had been following the man, known in the community as a homeless man who verbally attacks and spits on woman and children, as he made his way down Brooklyn Ave towards Lefferts around 4:00pm Thursday afternoon.
As the man approached the corner, he picked up a stick and began swinging it around, becoming more erratic and posing a significant danger to the hundreds of girls exiting the building and milling on the sidewalks.
As Shomrim closed in on the erratic man, one of the school's security Guards who – is a former Marine – took action and subdued him, keeping him from assaulting any of the girls. The police were called, and the man was soon restrained and being escorted into an ambulance for evaluation.
"Great #collaboration between our Volunteers & school security & @NYPD71Pct regarding an erratic male swinging a stick and posing a danger to hundreds of children being dismissed from school," Shomrim wrote on Twitter. "Due to quick intervention the call ended without incident."
The School's security guard, who was bitten by the man during the incident, was treated for his injuries by Crown Heights Hatzalah.
The Executive Director of Beis Rivkah, Rabbi Shalom Goldstein, said in a statement to CrownHeights.info that "We are thankful that our trained security team was able to handle the situation promptly and as always thankful for shomrim's swift response."