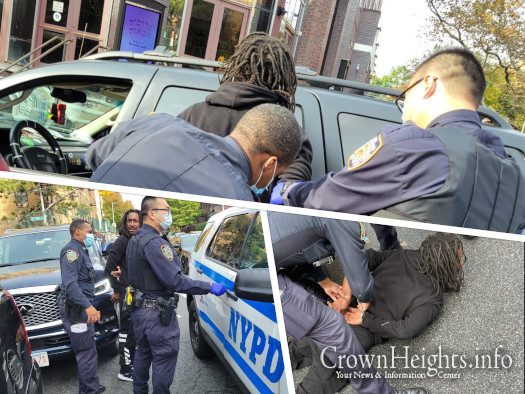 Notorious Crown Heights Package Thief Caught by Shomrim Red Handed, Arrested
by CrownHeights.info
A notorious Crown Heights package thief who has been terrorizing Crown Heights for months, snatching packages from porches and combing building hallways, has been caught red handed by Crown Heights Shomrim and arrested.
The thief overplayed his hand Monday when he entered a building in Crown Heights intent on stealing packages. A previous Jewish victim of his recognized the thief – and his green Jeep – from posters and social media posts spread by Shomrim.
Keeping an eye on the thief, the Jewish victim called Shomrim, following the man until the Shomrim volunteers arrived.
A team of Shomrim volunteers trailed the thief as he made his way onto Lefferts Ave and entered a building. Minutes later, they watched as the thief exited the building, stolen packages in hand.
Caught red handed, Shomrim engaged the thief, keeping him on scene until the NYPD arrived on scene.
The notorious thief, who terrorized Crown Heights families, stealing thousands in goods and causing untold agmas nefesh, was arrested and taken to the 71st precinct.
Crown Heights Shomrim is asking that anyone who was a victim of this thief please contact the 71st precinct and ensure that you have made a police report. Building a case on the thief  is vital so that he will not be simply placed back on the streets of the community.
To report a theft this man perpetrated, Call NCO Sector David Officer Rodriguez at (929) 327-0896.