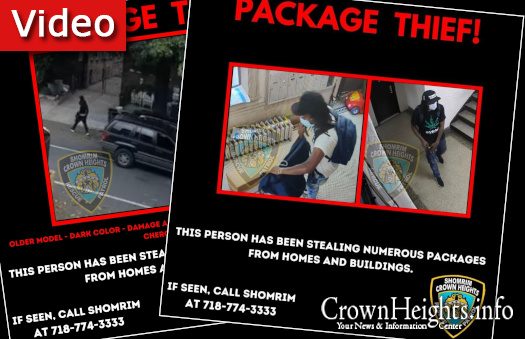 by CrownHeights.info
It's open season in Crown Heights for the unsavory individuals who believe that shopping takes place on the porches and lobbies of others, the package thieves.
Reports of package thefts in Crown Heights have spiked over the last few weeks, hitting nearly every single block in the shchuna.
"Crown Heights Shomrim is receiving reports daily of numerous package thefts in our community," Crown Heights Shomrim Coordinator Gadi Hershkop told CrownHeights.info.
Hundreds of dollars in Amazon, retail, and Ebay packages are stolen daily in Crown Heights, leaving residents frustrated and fuming.
One resident who made a large and expensive purchase while visiting from Israel found their packages stolen, and combed through video footage to find the thief.
"He was roaming around building to building stealing everything," he told CrownHeights.info.
The thief in question can be seen on surveillance footage roaming around the building hallways, picking through packages and boxes in the lobby and hiding a large delivery box in a bag.
His distinct hair and clothing are not new to Crown Heights Shomrim, who told CrownHeights.info that the  group of the same package thieves target the community daily.
"Many of these package thieves are repeat offenders, and a police report must be made so they can be held responsible," Hershkop said.
While some of the package thieves wander Crown Heights on foot, some of the more famous ones ride bikes and even cars. Yet all have some similar characteristics, primarily that of large black plastic bags.
The thieves use the plastic bags to hold their stolen merchandise, as suspicion would quickly fall on them should they be seen holding the boxes and packages openly.
In an effort to stem the wave of package thefts, Crown Heights Shomrim has published a series of identifying photos and videos of the thieves, asking Crown Heights residents to call the Shomrim Hotline if any of them are spotted in the community. Many of these thieves have open police reports for thousands of dollars in thefts, making them chargeable with Grand Larceny.
CrownHeights.info also gave CrownHeights.info a series of basic guidelines to protect your packages, highlighting the fact that ""The key to success is prevention."
Please be a kind neighbor and bring in your neighbors packages should you see them unattended in an accessible place.
Never allow anyone you do not recognize into a building, and do not simply buzz anyone in. Should you see someone who does not belong inside a building, keep an eye on them and make sure they leave without stealing.
Should you be ordering an important or expensive package, make sure to require a signature upon delivery, and if not, make sure to be waiting to receive it so it should not be left outside.
Should you see anyone stealing packages, or recognize any of these package thieves, call Shomrim right away at 718-774-3333.
View this post on Instagram
View this post on Instagram
View this post on Instagram