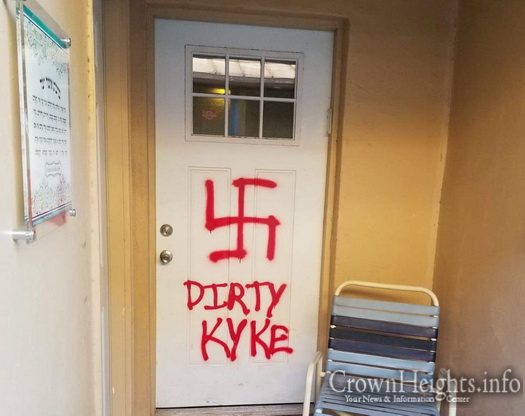 Chabad of Tucson Targeted With AntiSemitic Graffiti
by CrownHeights.info
Local Jews heading to shul Monday morning found the door to the Chabad House "tagged" with antisemitic graffiti.
Chabad of the River, run by Rabbi Rami Bigelman, said that the vandalism was "very disturbing" and raises safety concerns.
The swastika and and racial slur were spray painted red on the door, and sparked unrest in a community already reeling from another recent antisemitic attack.
"Sad to wake up to the news that @Chabad on River was vandalized," tweeted Arizona Rep. Alma Hernandez. "When it happens to one, it happens to all of us. The amount of Jewish hate isn't shocking. The silence is. This is NOT my #Tucson please keep #AZ #Jewish community in your prayers."
According to the Tucson Police Department, the exact time when the vandalism took place is still unknown, with the last confirmed sighting of no vandalism on the door having been on Shabbos.
Arizona Governor Doug Ducey also responded to the incident tweeting "This is terrible. Anti-Semitism has NO place in Arizona and this behavior cannot be tolerated. We are ensuring the authorities are aware of this hateful act. Those responsible must be held accountable. Arizona stands with those of the Jewish faith."