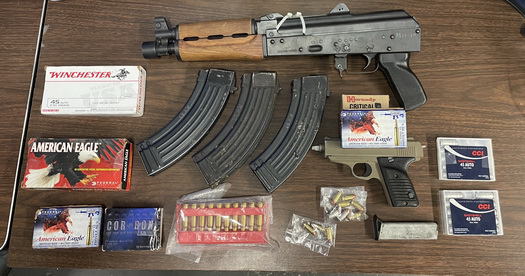 Credit: NYPD 71st Precinct Twitter
by CrownHeights.info
The NYPD 71st Precinct – which covers a majority of Crown Heights – made a shocking seizure of Serbian military rifle after they responded to a report of shots fired within the area.
"While you were sleeping. Your 71 Neighborhood Coordination Officers and Fio's responded to a confirmed shots fired," the precinct wrote. "This is what they encountered! Excellent police work! Great arrest!"
The Zastava M70, a rifle developed and produced by Zastava Arms in Serbia, was found along with a handgun and cache of bullets during the arrest.
The seizure comes as the city is seeing a soaring number of shootings and other gun related violence, which many attribute to what is viewed as a softening stance against criminals and crime in general.
For the month of March 2021, New York City saw an increases general crimes, with the exception of robbery and burglary. Overall crime rose 2.4% compared with March 2020, driven by a 36% increase in murder (34 v. 25) and a 35.1% increase in grand larceny auto (666 v. 493). There was a 11.8% decrease in robbery (842 v. 955) in March 2021, and a 8.5% reduction in burglary (919 v. 1004) compared to the previous year. Felonious assault saw a 0.9% increase compared to March 2020 (1643 v. 1629), and shooting incidents increased to 99 v. 56 in March 2020 (+76.8%).
In March 2021, there were 492 gun arrests citywide. This is an increase of 66.8% compared to March 2020, or +197 arrests.