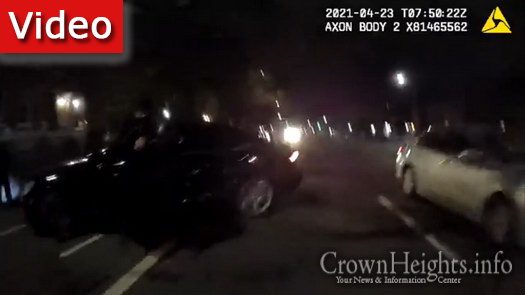 by CrownHeights.info
A 71st Precinct police Lieutenant was run over and dragged Friday night by a suspected gang member after the officer asked the driver to step out of his car while conducting a traffic stop.
The officer had stepped over to Takim Newson's car on Rockaway Parkway at around 3:50am for being double-parked and with illegally tinted windows.
When the officer asked Newsom to exit the vehicle, he instead slammed the car into reverse and took off, taking the officer with him.
Newsom, a suspected member of the Bloods gang, high-tailed it to a home where he faked having a weapon in order to forcibly get inside, according to a report by the police.
He then ran on foot from the home and stole an idling green Jaguar, with which he made an escape attempt by driving to Suffolk County on Long Island. He was caught soon after.
Early this morning, officers from the @NYPD71Pct conducted a car stop. During their investigation, officers determined the driver was not fit to drive and asked him to step out of the vehicle. That's when he put the car in reverse, running over the lieutenant. pic.twitter.com/8pWRkcSsI5

— NYPD NEWS (@NYPDnews) April 23, 2021