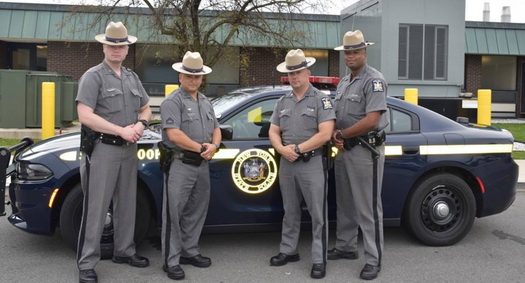 by Monsey.info
Three rules for life, Don't Speed, Don't Get Caught, and Don't Brag About It On Social Media. This guy failed at all three.
On March 21st an 18-year-old decided to break the the first rule on State Route 17 in the town of Goshen when he took a 2003 Infiniti G35 at 117mph in a 65mph zone.
A State Trooper caught the speeding teenager on radar, and attempted to catch up.
Aware that he was being followed, the teenager wove in and out of traffic and attempted to loose his tale by exiting off exit 129 and hiding in a Park and Ride lot. Right behind him, the trooper caught up, and attempted to approach the car. Thinking he was keeping to rule #2, the teenager suddenly pealed off, but not before the officer was able to get a good look at the driver and record the license plate.
The teenager reentered State Route 17 East and proceeded to Interstate 87 South, with the trooper continued the pursue the vehicle. For safety reasons, the officer terminated the pursuit after the vehicle reached a speed of 148 mph in a 65 mph.
While it appeared that the teenager had managed to hold by rule #2, the truth is that he had made the grievous error of breaking rule #3.
During the trooper's investigation he was able to determine that the plate on the Infiniti belonged to another vehicle registered out of NYC. Easily able to locate the owner of the license plate, the trooper then learned that the driver of the speeding vehicle was a relative.
Thanks to teenagers love for social media, the trooper found photographs with the teenage suspect standing next to the Infiniti G-35 with the switched plate.
With the assistance of the New York City Police Department (NYPD) the vehicle was located in Queens along with the suspect. The suspect was detained by NYPD and then turned over to New York State Police in New York City.
The suspect was transported to the state police barracks in Monroe where he was charged with Reckless Endangerment 1st degree, (felony) Reckless Driving and Fleeing an Officer in a Motor Vehicle in the 3rd degree. (misdemeanors). The suspect was released on an appearance ticket returnable to the Town of Goshen Court on April 12, 2021 at 1:00 p.m. and was also issued 43 tickets, including 117mph in a 65 mph zone and 148 mph in a 65 mph zone. All tickets were issued to the corresponding jurisdictions that the violations occurred.