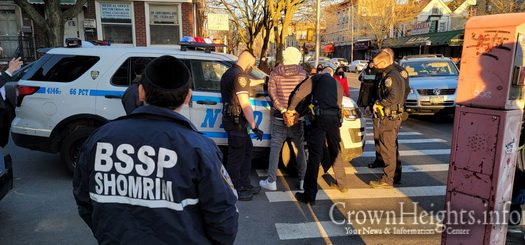 SHOCKING: Carjacker Forces Child Out of Car Friday In Boro Park
by CrownHeights.info
A shocking incident took place in Boro Park just minutes before Shabbos, when a carjacker forced a child out of a car at knife point before driving off. The car was chased down and the carjacker apprehended thanks to Boro Park Shomrim.
According to YidInfo, the carjacker, described as a black male, jumped into a silver minivan at approximately 5:10pm Friday afternoon and took off.
The carjacker initially did not notice the 14 year old boy in the back seat, but forced him out at knifepoint once he did.
Members of Boro Park Shomrim and the NYPD were fervently searching for the vehicle and kidnapped boy, with Shomrim ultimately locating him on McDonald Ave and 18th Ave.
While at first Shomrim just followed the vehicle while waiting for the police to catch up, they eventually were forced to stop the vehicle after the carjacker began running red lights and driving erratically. The stop was made on East 3rd Street and Cortelyou Road, with the police arriving moments later to put handcuffs of the carjacker.
Thankfully no one was injured in the incident.