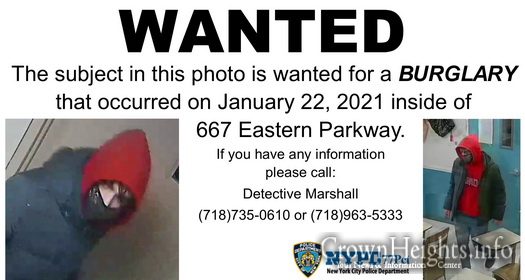 by CrownHeights.info
The NYPD's 77th Precinct – which is responsible for the north section of Crown Heights – has published a wanted poster looking for information on a burglar that targeted Oholei Torah.
According to the NYPD, the person, wearing a read hoodie and mask, entered the building on Friday January 22nd, and can be seen in photos entering a classroom.
"The subject in these photos is #wanted for a burglary that occurred on 01/22/21 inside of Oholei Torah (667 Eastern Pkwy)," the precinct tweeted. "If you have any information at all, please call our Detectives at (718)735-0610 or (718)963-5333."
The police did not provide information as to what may have been stolen.