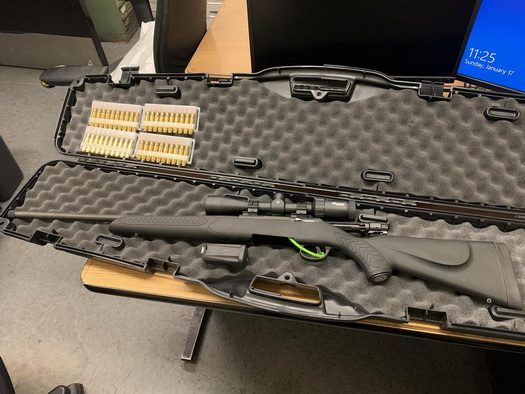 Photo Credit: 71st Precinct Twitter
by CrownHeights.info
The NYPD's 71st Precinct, which covers a large portion of Crown Heights, announced the seizure of a large rifle discovered during a Domestic Violence arrest.
"Over the weekend Officers responded to a Domestic Violence job which led to the arrest of an individual with an unregistered firearm," the Precinct wrote.
The rifle appeared by sight to be a hunting rifle, with a scope and multiple rounds of ammunition.
The 71st Precinct has seen a steady stream of guns seized over the past few weeks, with those published on the precincts twitter all being handguns.
Over the weekend Officers responded to a Domestic Violence job which led to the arrest of an individual with an unregistered firearm. #onelessgun pic.twitter.com/qUtPzaLJnC

— NYPD 71st Precinct (@NYPD71Pct) January 19, 2021