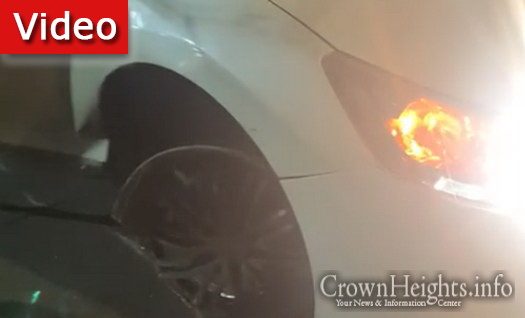 by CrownHeights.info
Shloimy Klein of Mr. Greens on Albany Ave found a surprise waiting for him Sunday night sitting in the middle of the street in front of his store.
A white Honda Accord with temporary New Jersey plates was sitting in the middle of Albany Ave between Eastern Parkway and Union Street, still with its motor running and doors wide open.
"The car was involved in a hit-n-run," ShloimyKlein told CrownHeights.info. "There were three young black people in the car."
The car, besides for a missing tire and partially shattered wheel on the front right end, was in perfect condition, and appeared untouched from when it had been abandoned.
Shloimy Klein, who also volunteers in Crown Heights Shomrim, called 911 and flagged down a passing police car from NYPD Transit. The officers remained on the scene until officers from the 71st Precinct arrived.
The car was identified as having been involved in two hit-n-run incidents within the last few blocks. The first was on the north side of Eastern Parkway where the driver of the vehicle rode over a cyclist near the Albany Ave projects, destroying the bike but thankfully not injuring the biker. The second was on the corner of Eastern Parkway and Albany Ave, where they hit another car and lost their wheel.