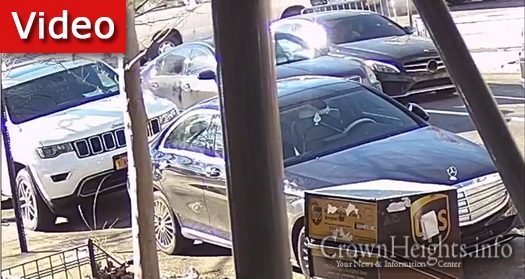 Video Of Kingston Ave Shooting Surfaces
by CrownHeights.info
Surveillance video showing the moment a person in a black Nissan sedan fired three shots into a car on Kingston Ave has surfaces, showing the exact harrowing moments.
As reported on CrownHeights.info, at approximately 10:23am, an unidentified individual driving a black sedan fired three rounds into a vehicle that was double parked on Kingston Ave. The man then fled in his vehicle northbound on Kingston Avenue.
The newly released video footage adds additional details, and shows just how lucky the person sitting in the black Mercedes was.
The video clearly shows as the driver of the black Nissan stops adjacent to the Mercedes, firing three shots at nearly point blank range and leaves holes in the passenger window and windshield.
There were no injuries reported as a result of this incident, as all three rounds missed their target.
The NYPD has also released video footage of the vehicle, and have asked the publics assistance in locating it.