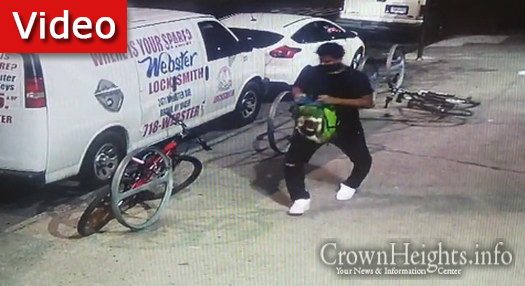 Bow Legged Bandit Steals Bike In Crown Heights
by CrownHeights.info
A police report was filed Wednesday after a bow-legged bandit in Crown Heights snipped the chain on a bike on Rutland Road.
The incident took place on Wednesday, January 6th at approximately 6:15pm, directly in front of Yeshivas Darchai Menachem.
Surveillance footage of the theft shows the man, dressed in a blue shirt, black, pants and white sneakers, rides to the locked up bike and pulls out a took to snip the bikes chain.
Onlookers and passers-by can be seen approaching and even talking with the thief as he snips the chain and hops on the bike.
While the thief may have gotten away clean, his distinct bow-legged walk may be a giveaway to the NYPD, especially if he has prior arrests.
A police report was filed by the owner of the bike over the incident.