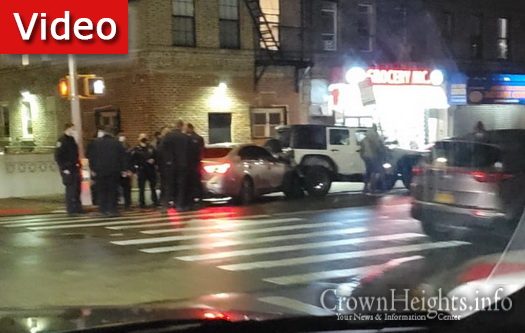 by CrownHeights.info
A crew of three thieves driving a stolen car became the center of an all out police search Motzei Shabbos after they crashed their car while driving through Crown Heights.
The car, a silver sedan, hit a jeep on the corner of President Street and Troy Ave a little after 9:00pm, triggering a manhunt for the three suspects.
The police, who had been chasing the stolen vehicle, created a search perimeter on Carroll Street between Troy, after one of the thieves ditched their jacket as he ran.
The NYPD aviation helicopter along with ESU and K-9 units quickly arrived and began scouring the area, coming up with two of the three thieves hiding in the back yard of a Jewish owned home.
The helicopter had been able to identify the two suspects by tracing their heat signature, leading the officers directly to their hiding spot under a tarp, according to a source.
The two perps were seen handcuffed as they were placed under arrest and taken into custody.
As the latest update, the police were still searching for the third suspect.