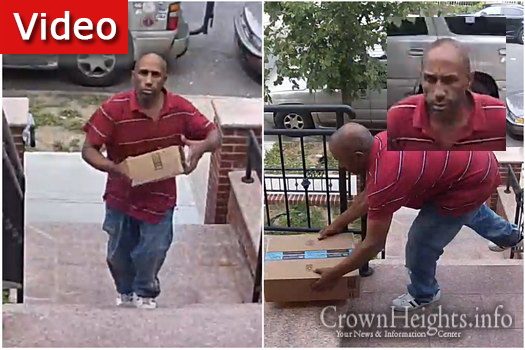 by CrownHeights.info
Crown Heights residents are finally taking a stand in an attempt to stop the scourge of package thieves plaguing the community.
"I put out out a fake package, filled with some garbage I needed to get rid of," a Crown Heights resident told CrownHeights.info. "I taped it up well so the guy can't open it up with his fingers on the spot and see that it's garbage and leave it there."
With the package placed out in plain sight, there wasn't really a chance that the package thief wouldn't make off with it. But the effect was even better than expected.
"An hour and a half later, a guy comes and takes the package," the resident said. "But the best part of the story is that a few minutes later the guy shows back up, and drops off a different package he stole from another house, that he opened and didn't want to keep."
For a Crown Heights resident victimized by the multitude of local package thief, it's the perfect revenge.
"He must have had a limited amount of packages he could take carry around with him. He returned to my porch this other guys small, real package, and kept my garbage package instead."
The story ended on a positive note, not only by frustrating a thief, but also with the mitzvah of Hashavas Aveida, with  the return of another stolen package to it's rightful owner.
Are you having packages stolen or cars broken into in Crown Heights? Send us your videos of these thieves to news@crownheights.info, or whatsapp us at 718-285-8000.