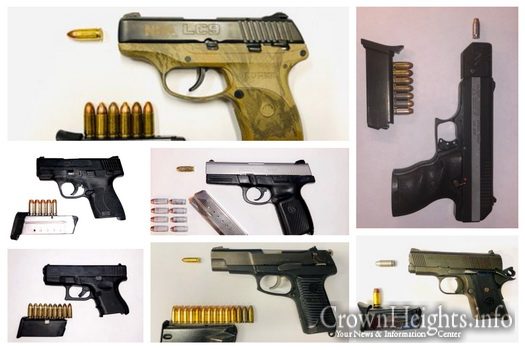 by CrownHeights.info
With Labor Day weekend just around the corner, the Violence Suppression Team of the 71st Precinct kicked into gear, taking seven firearms off the streets of Crown Heights in under a week.
"Phenomenal job by 71 FIO, 71 Violence Suppression Team, and 71 NCO teaming up to arrest 4 separate individuals in 4 separate instances with 4 separate illegal firearms," the precinct tweeted on Sunday.

The four firearms rounded off three more that had been taken off the streets in the past week.
Phenomenal job by 71 FIO, 71 Violence Suppression Team, and 71 NCO teaming up to arrest 4 separate individuals in 4 separate instances with 4 separate illegal firearms #Fourlessguns #crownheights #keepingnycsafe pic.twitter.com/5RCBOZLR3O

— NYPD 71st Precinct (@NYPD71Pct) September 6, 2020
Our Violence Suppression Team arrested another individual in possession of this illegal firearm. Their hard work and commitment to the people of our community #crownheights has #onelessgun on its streets. Keep up the good work. #NYPDProtecting #keepingnycsafe pic.twitter.com/GeGwuV6CPW

— NYPD 71st Precinct (@NYPD71Pct) September 5, 2020
Lastnight our violence suppression team was out there working hard to keep the people of the 71 safe. Early in the night PO Sargent arrested a man for this illegal gun. The team came back out & PO El-Maadawy spotted another illegal gun possession. #twolessguns #crownheights. pic.twitter.com/N6bmPLqR9a

— NYPD 71st Precinct (@NYPD71Pct) September 3, 2020