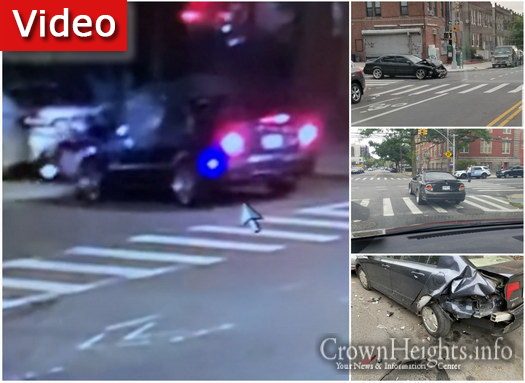 by CrownHeights.info
A hit and run driver slammed into two parked cars Motzei Shabbos, abandoning his wrecked vehicle in the middle of a Crown Heights intersection.
Video footage of the incident shows as a black Nissan Maxima, with it's hood already bent from an earlier collision, as it drove down Albany Ave and slammed into the back of a car parked on the corner.
The driver, who appears to be driving erratically, reversed from the crash before continuing down Albany Ave to East New York Ave.
The driver then stopped the car partway into the intersection, fleeing the scene and abandoning the vehicle.
The car was left there, blocking traffic coming down Albany Ave, until Sunday morning around 9:00am, when the police came and towed the vehicle.
A police report was filed, and the temporary New Jersey licence plate on the car was found to be from another vehicle, according to a police source.
The 71st Precinct is investigating the incident.