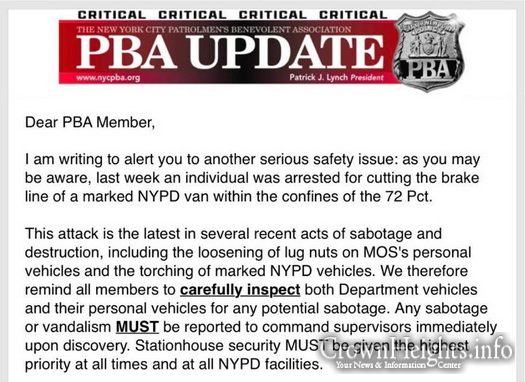 by CrownHeights.info
It is becoming increasingly more dangerous to be a police officer.
The New York City Police Patrolman's Benevolent Association has published an alert for the officers of the NYPD, after a man was arrested cutting a brake line on an NYPD vehicle.
"I am writing to inform you of another serious safety issue," the PBA wrote. "As you may be aware, last week an individual was arrested for cutting the brake line of a marked NYPD van within the confines of the 72nd precinct."
The incredible dangerous act not only endangers the lives of the officers, but also those of the cities civilians.
The alert called the act "sabotage," and called on all officers to carefully inspect all NYPD vehicles for any such attempts to tamper with them.