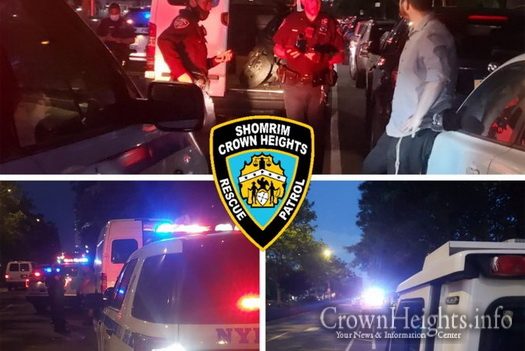 by CrownHeights.info
Thanks to an alert Crown Heights Shomrim volunteer, a moped stolen earlier this week was located and returned to its rightful owner.
"Great job by our Vol's in spotting this stolen moped as it was being removed into a van," Crown Heights Shomrim tweeted.
The moped had been stolen Monday night from where it was parked on President Street in Crown Heights.
The owner of the moped made a police report regarding the stolen bike, and notified Crown Heights Shomrim of the theft.
Armed with a photo and specific details of the stolen moped, the volunteers kept their eyes out. Three days later, their tenacity paid off.
Two Shomrim volunteers in the vicinity of Montgomery between Troy and Schenectady, noticed three guys loading a suspiciously similar moped into a van.
After definitively identifying the moped, the pair called 911, while tailing the van through the streets of Brooklyn.
While waiting for the police to catch up, the volunteers followed the van up Rogers Ave, across the Williamsburg Bridge, and into Manhattan.
The NYPD officers eventually caught up, and pulled over the van.
After the officers identified the stolen moped, they placed the driver under arrest for larceny, and returned the moped to its rightful owner.
Great job by our Vol's in spotting this stolen moped as it was being removed into a van and notifying @NYPD71Pct @NYPD90Pct resulting in one UNDER for larceny #ItsWhatWeDo #EyesAndEars #collaboration pic.twitter.com/y126C3TE3S

— CH Shomrim (@ShomrimCH) June 19, 2020