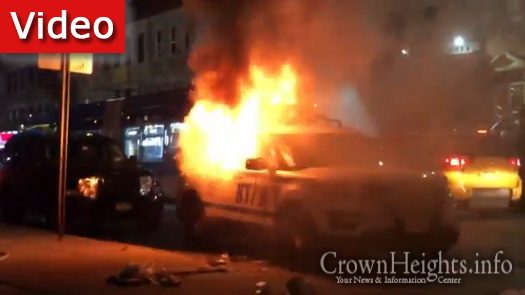 by CrownHeights.info
Violent riots began in New York City Saturday in protest of the death of a man during a police arrest in Minneapolis last week.
George Floyd had died while being arrested by Minneapolis police officers, one of whom was videod kneeling on the mans neck after he lost consciousness.
Riots and looting surged in US cities over the last two days, prompting a flurry of curfews across the country.
"Returned from a two-day Jewish holiday and half the country is on fire. We all agree on George Floyd, which is why a bad cop is now under arrest." Tweeted famed political commentator Ben Shapiro. "Anyone who defends looting and rioting and targeting of business-owners and cops on this basis is nothing short of evil."
The violent protests in New York City Saturday left multiple police vans burning, as well as over 100 rioters arrests.
As of midnight Motzei Shabbos, major protests continue in Manhattan and Brooklyn, one taking place just minutes from Crown Heights.
A protest related incident took place in Crown Heights Saturday after a woman was arrested for throwing a Molotov Cocktail at a police vehicle.
"Four cops could've been killed last night when Molotov cocktails were thrown into a police car they were in."  Tweeted NYPD Chief Terrance Monohan. "Other officers were seriously injured by bricks thrown — and a gun was recovered. These individuals are not protestors. THEY ARE CRIMINALS who'll be arrested & prosecuted."
In a press briefing, New York City Mayor Bill DeBlasio blamed President Donald Trump for the riots taking place, and tweeting to "please remember how important it is to protest peacefully."
NYC Mayor Bill de Blasio is now blaming the riots on President Trump saying he "helped to create" the "atmosphere" for them. pic.twitter.com/vjfZ4E9Bti

— Breaking911 (@Breaking911) May 31, 2020
Cop car on fire in church Ave at Bedford Ave pic.twitter.com/I69nV9rLtR

— Zach Williams (@ZachReports) May 31, 2020