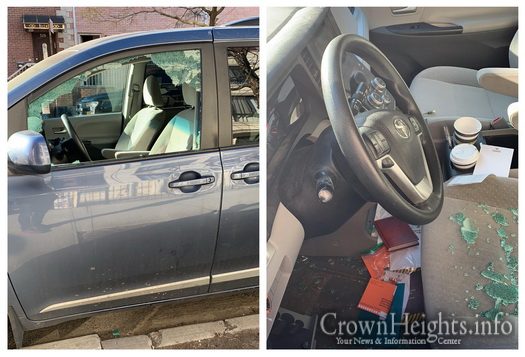 by CrownHeights.info
A car was broken into Motzei Shabbos making it the fifth reported break-in in less than two weeks in Crown Heights.
The car was parked on Maple Street between Brooklyn Ave and Kingston Ave, where the owner of the vehicle found the window broken Sunday morning.
A police report was filed, making this car the fifth reported break-in in what appears to be a crime pattern.
Just last week, four cars were reported broken into in the exact same fashion, where the thief shattered a window to gain entry to the vehicle.
CrownHeights.info would like to remind all residents to make sure your vehicles are secured, and all valuables removed before leaving your vehicle.
If you have had a theft or break in, please sent any pictures and footage to news@CrownHeights.info, or to our whatsapp at 718-285-8000.
Past break-ins since last week:
At Least Two Car Break Ins Reported In Crown Heights Last Night
Another Car Broken Into Overnight In Crown Heights
Cars Broken Into In Crown Heights For Third Night This Week