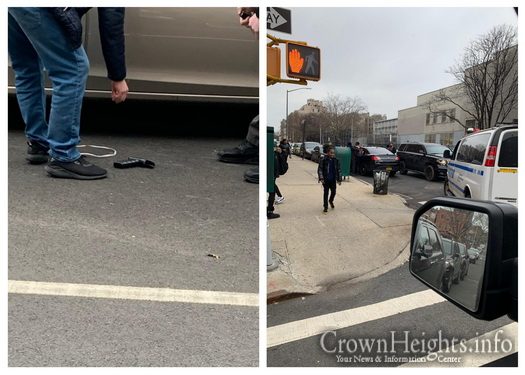 by CrownHeights.info
Just an hour after Crown Heights Shomrim finished with a hate filled incident on Albany Ave, the volunteers again responded to a call for help in Crown Heights.
Around 3:00pm, Tuesday afternoon, a woman called the Shomrim hotline reporting an incident that took place just moments before on Lefferts Ave Brooklyn to New York, where a young teenager had pulled what looked like a gun on her.
A Shomrim volunteer quickly identified the boy by his distinctive red jacket, and notified the police.
The police arrived quickly, taking the boy into custody near the corner of Sterling Street and New York Ave.
The police were able to retrieve the gun, identified a being a plastic fake, under a car where the boy had tossed it.
The boy was arrested for menacing, and taken to to the 71st precinct.
Around 3 PM we received a call from a woman stating that a young man pointed a firearm at her. Our Vol arrived quickly & were able to locate the subject & facilitate an arrest for menacing. Thanking @NYPD71Pct for the quick response. Thankfully the firearm was fake #ItsWhatWeDo pic.twitter.com/UoNNO6GImj

— CH Shomrim (@ShomrimCH) January 14, 2020