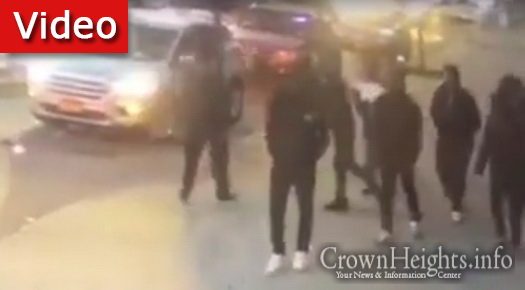 by CrownHeights.info
Video of another attack in Crown Heights has surfaced showing an incident targeting a Jewish resident from a week ago.
The video took place Tuesday afternoon on Albany Ave between Lincoln Place and Eastern Parkway.
A group of teens walking down Albany Ave can be seen as they ambush am unassuming bochur walking towards them.
As the bochur attempts to walk around the group, one of them throws a folded chair at him, hitting the bochur and making him stumble.
The startled bochur was then subjected to a quick beating, as two of the group comes after him again, punching him one after another.
The group then continues on their way, heading deeper into the Crown Heights area.
The group then made their way onto Union Street, where as previously reported on CrownHeights.info, they brutally attack a Crown Heights resident near Kingston Ave, throwing him to the floor.
The group of teens were quickly tracked down by Crown Heights Shomrim volunteers, who were able to follow them to the Albany Ave projects.
The bochur assaulted on Albany Ave initially did not tell anyone about the assault. Only later, after video of the incident surfaced, did the details of what happened emerge.