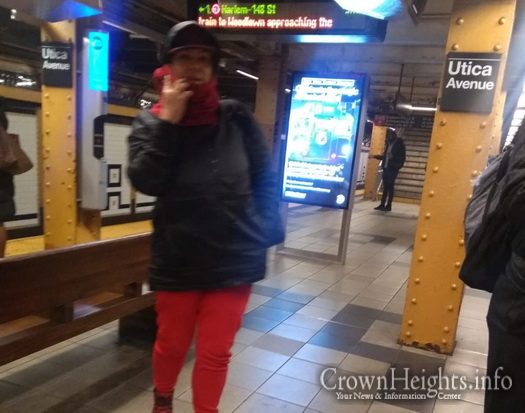 Jewish Woman Harassed On Crown Heights Subway Platform, Called "F…. Jew With The Wig" (UPDATED)
by CrownHeights.info
A Jewish woman on her Monday morning commute was targeted in an anti-Semitic attack on a Crown Heights subway platform.
The incident took place on the Utica Ave Subway platform as the Jewish woman waited for her train.
A woman wearing a black jacket with red pants and shoes began shouting anti-Semitic slurs, according to the victim, calling her "the F… Jew with the wig." The woman also allegedly threatened to throw the Jewish woman onto the tracks.
Thankfully the assault remained only verbal, and no one was physically hurt in the incident.
A police report was filed with the NYPD over the incident.
A Message From The Victim:
I just want to say thank you very much to Shomrim (including Bentzion Turk) for helping me every step today and for Sergeant Kelly and Captain Martinez from our local precinct and Ron Sanchez from the Transit Police Dept. for acting kindly and helping and directing me how to go about this and making sure this is taken seriously. At least I felt like that
Very different from when I reached out to the precinct a decade ago and my report (for a busted car tire) was shredded before my eyes.
I hope to never experience again what I experienced this morning. It was mighty scary when she charged towards me saying she's going to push me onto the tracks.